January 03, 2018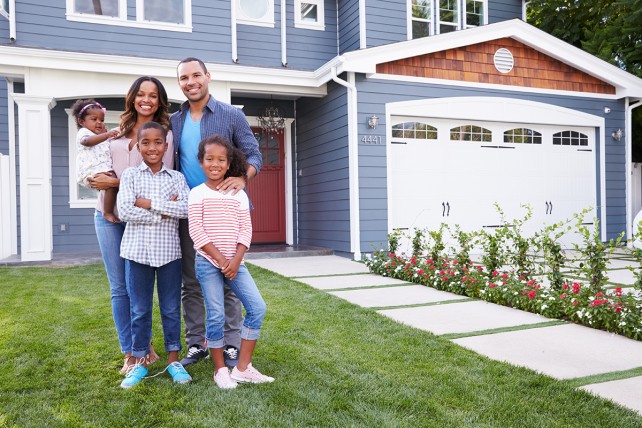 Home safety means a great deal more than baby-proofing your space when your children are young. No matter what age your kids may be, it is vital that the home you create for them is as secure as possible. Implementing some or all of these measures can enhance your security as well as theirs.
Know Who Has Access
If you sit down and think about it, you may realize that more people know how to enter your home than you may have first thought. These could include trusted neighbors, housekeepers and child-care professionals. These individuals may know the password to your security system as well as every detail about your schedule.
For these reasons, it is very important to exercise extreme care when it comes to who you hire and let into your circle of trust. Be sure that you always conduct a background and credit check and drug screening before you take on a domestic employee. If a person who works for you needs to have access to cash for any reason, set up a separate account from which they can draw. Another option is a prepaid debit card that limits the amount that a person can spend.
Be sure that all contractors, including builders, landscapers, electricians and painters, are licensed and that their criminal background and drug history are clean. Talk with the owner of any contracting company if you plan to be away and anyone is scheduled to visit your property to do work of any kind. Ask for a schedule as well as the names of all workers who will be at your home.
Perform an All-Hazards Risk Assessment on Your Residence
Even if you have strong security measures in place, it never hurts to intentionally sit down and do a comprehensive review of your entire situation. Some important questions you can ask include the following:
● Who are all the people who have access to your property?
● What plans are in place in the event of a natural disaster or other emergency?
● Do public records or the internet contain information about you, your family or your comings and goings that could affect your safety and security?
● In surveying your property, do you see any physical vulnerabilities that could make it easy for an intruder to enter?
This hazards assessment can help you to define your goals as you take steps to make your fortress impenetrable.
Secure the doors
Talk to your children about the importance of not opening the door when a stranger knocks or rings the bell. It might go without saying, but this one innocent act can compromise many of the other security measures you decide to take. If you believe it is appropriate, name specific people such as grandparents who are exceptions to this rule, and be sure to remind your kids every time you leave.
Instruct Your Kids How to Call for Help
Whether you have a cell phone, a land line, or both, your children should be thoroughly educated on how to reach medical or law enforcement personnel in the event of an emergency. Even very young children can be taught how 911 works as well as how important it is to only call when a true need arises. The headlines frequently feature stories about how even the very youngest member of the family comes through in a crisis by making that all-important call.
Set up a list of favorites on your mobile phone as well. Explain to your children how and when to contact these people if they have any questions or need help.
Prevent Accidents in Your Home
Contrary to popular belief, older people are not the only ones who have falls and accidents in their homes. In fact, children are almost as likely as seniors to be seriously injured from falling. Fortunately, there are measures you can take to minimize the risk and keep everyone safe and upright:
● Remove tripping hazards such as toys or electrical cords from the floor.
● Invest in railings on both sides of all flights of stairs, and encourage everyone in the family to use them.
● Make your bathroom a safe place by installing grab bars in the shower and non-slip surfaces in the tub.
Prevent accidental poisonings
Your home is filled with potentially dangerous substances. These include medications, cleaning fluids and pesticides. Storing them properly and ensuring that they are out of reach of children is crucial. In addition, keep the telephone number of your local poison control center in a prominent place in case of emergency. Also keep in mind that many of these chemicals can be dangerous to your pets as well.
Make water safety a priority
If you have a swimming pool, install a high fence around it and put self-closing doors around the area. Never let young children swim without adult supervision, and be sure you talk to the parents of any young visitors who come over to use your pool to learn about the child's ability or inability to swim.
Make plans in case of fire
Be sure to come up with an escape plan in case of fire, and review it with all family members on a regular basis. Install smoke detectors throughout your home, making sure to change their batteries twice per year. Never smoke in bed or on upholstered furniture, and keep combustible materials far away from space heaters.
Create the impression that people are home
Criminals often run surveillance on a neighborhood over a period of days to learn the routines of the people who live there. For that reason, always make sure your home looks occupied. Put outside lights on a timer when you aren't there. If you are away for an extended period of time, ask or hire someone to mow and water your lawn and remove letters from the mailbox. Invite neighbors with extra cars to park in your driveway. Because many criminals use social media to learn of people's travel plans, do not reveal that you will be away from home on your Facebook, Snapchat or Instagram status.
Keep Your Yard Well Groomed
Trees and bushes can make perfect hiding places for people who are up to no good. Be sure you keep yours well-manicured to avoid nasty surprises.
Develop good habits
It's just as important as reading a bedtime story to your kids. Every night, take time to ensure that all windows and doors are locked. Even during the day, securing all entrances is an excellent idea no matter what type of neighborhood you live in. Modeling this behavior will instill it in your children and will minimize the chances of burglary.
Install a security system
There are numerous types of mechanisms on the market that will set off an alarm and warn authorities if an intruder does manage to breach all of the measures you have put in place to protect your home. While most people invest in a system for their primary residence, many fail to recognize that seasonal homes or cottages should also be protected.
If your home already came equipped with a security system, it might not be the ideal one for your needs. Your goal should be to find a model that is both effective and easy for all of your family members to use. After all, even the best protection is useless if it isn't activated.
When considering excellent security packages, one option is an install-it-yourself wireless home security system. This system, which virtually anyone can install in less than an hour, protects you against fire, burglary and carbon monoxide. No matter where you are in the world, you can monitor your home via your cell phone. Best of all, you won't break the bank.
Light it Up
Illuminating the exterior of your home with motion sensor lights, including driveways and paths, is a great crime deterrent. It also is a great way to welcome guests and to protect them from trips and falls. As stated above, put several lights inside your home on timers to create the impression that people are home.
Tend to windows and doors
Windows and doors are two of the easiest ways for criminals to gain access to your personal space, and therefore your family. Safeguard them by putting a metal or wooden bar in the bottom track of your windows and sliding doors. Doing so can prevent them from being pried open.
Your external doors should be equipped with dead bolts. If you cannot see your porch easily from inside your home, consider installing a peephole. If your external windows or doors have glass insets, protect them with security window film. Doing so will help to ensure that an intruder does not simply break the glass and gain entry. In the case of windows, bolster them with security film, shutters or security screens.
Pay special attention during the holidays
For many of us, the days between Thanksgiving and Christmas are the busiest of the year. While all of the hustle and bustle can be exciting and fun, it can also leave you distracted and vulnerable to breaches of home safety. By all means, enjoy all of the gift-giving and family fun, but keep yourself and your family safe by doing the following:
● If you have a Christmas tree, be sure it is securely placed in a stand and is far away from open fires. It is not advisable to decorate it with burning candles.
● If you have Christmas lights, check to be sure that there are no broken bulbs or frayed electrical cords. Any extension cords should be positioned as close to the wall as possible to prevent tripping.
● Prepare the outside of your home for holiday guests by lighting your driveway and making sure that snow and ice have been cleared away. Any lights or extension cords should be approved for outdoor use.
● There is nothing cozier than a roaring fire, but don't let it get out of control. Before setting your logs ablaze, hire a professional to clear all of the soot and ashes. Keep any flammable items well away from your fireplace, and keep a fire extinguisher handy just in case.
● Many traditions involve setting off fireworks on New Year's Eve. Before you do, make sure that only adults have access to them. Read and follow the written instructions on the package, and be sure to shoot off the fireworks far away from people and buildings.
Your home is your castle. It's the place where you raise your children, entertain your guests and, most importantly, where you should feel the safest. By taking the time to put home security measures into place, you can go a long way toward ensuring that your children are protected and that your property remains a warm and hospitable sanctuary for everyone.