April 08, 2019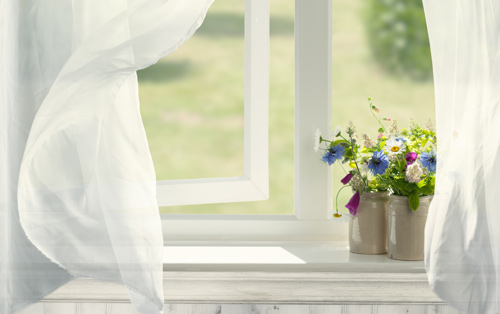 Finally, the end of the cold months has arrived, and now it's time for nature's new beginnings. April celebrates Lawn and Garden Month, so if gardening is your jam – or it was your New Year's goal to learn the basics – get excited. April is the best time for raking, mowing, fertilizing, and getting your lawn in shape for the spring and summer months. April is also the month to plant most shrubs, and the time to get control of your weeds, so be sure to pull or hoe them as soon as you see any.
As you're gardening, one thing to keep in mind is that most people do have a false sense of security and think their home is safe when they are just out back. Keep in mind, though, that nearly 1.5 million burglaries happen every year during the day between 6 a.m. and 6 p.m.1, so if you're planning to spend long periods of time in your backyard, be sure to turn on your system. And keep your phone on you so you can get text or email notifications if someone comes through the front door.
Also, pay attention to all entry points; don't leave ground floor, easy-access windows open, as they are an easy way for burglars to enter the home. Keep downstairs windows shut and locked when you're outside, leaving home, or headed upstairs to bed.
Make sure to cut back all bushes and shrubs around your home so that they are no more than three feet high. It's an unfortunate fact that homes with overgrown landscaping give burglars a perfect place to hide out and survey whether someone's at home or not. It also prevents neighbors and others from seeing someone suspicious roaming around.
Reminder: April 15 is Income Tax Day
Let's face it: no one likes tax time, but completing your tax return each year is a huge relief. It is recommended that once you file your taxes, you should save seven years of copies of your tax returns in case of an audit.
Keeping a special, fire-safe file cabinet dedicated to maintaining your tax information is an important first step to staying organized. Store your past taxes in one drawer, and keep an open file all year long for the current tax year, including an envelope for receipts and other tax write-off information you'll need to record. That way, when it's time to visit the accountant next year, you can just grab and go.
Given the sharp rise in bank fraud and stolen identities, it's also a good idea to store your sensitive financial information, passports, birth certificates, and other important documents in a single room or location, as it's easier to protect this way. Be sure to secure your home office or storage area with a LifeShield camera and sensors on all doors and windows.  Add a sensor to each one of the drawers of your cabinet too, for extra protection, and you'll know the moment it's been opened.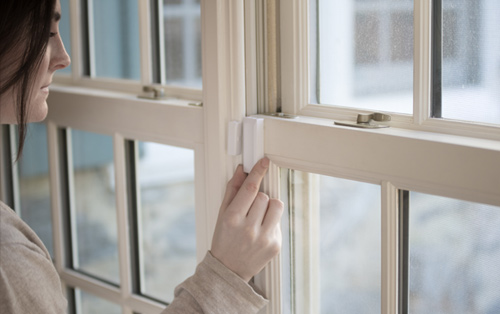 Window safety is hey for home protection
April 1-7 is National Safety Council's Window Safety Week, and with it comes some helpful window safety tips:
Keep Windows Clear. To help protect your family, keep your windows clear of security bars or devices that do not allow for easy opening. That way, if you need to escape quickly, you can.
Help Prevent Window Falls. To help keep kids safe, it's important to teach them that window screens are meant to keep bugs outside and won't prevent falls. Remember to close windows that are reachable by children and keep furniture away from windows in kids' areas.
Monitor Window Sensors. You can monitor your windows with LifeShield window sensors to receive notifications each time they open. In addition, glass break sensors alert you if an intruder breaks your home's windows or sliding door.
Take steps to help enhance your family's safety by using LifeShield's door and window sensors on all entry points of your home to get instant notifications virtually anywhere and anytime.
Pro Tip: Make it known to all who visit your home that you have a LifeShield system.
By choosing to secure your home with LifeShield, you are protecting your home and family from break-ins, as well as fire, water, and carbon monoxide poisoning. Don't give burglars a chance; be sure to post the provided LifeShield signs and stickers around the outside of your home to let burglars know they shouldn't even try to break in to your home.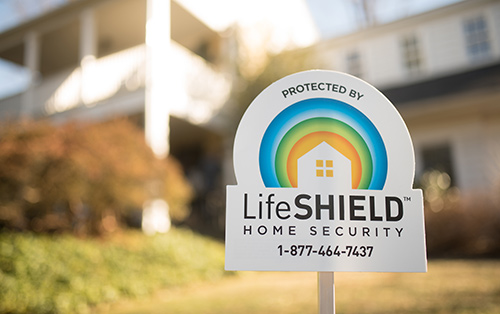 Selling or buying a new home?
LifeShield Will Get You Through It With Peace of Mind.
Are you taking advantage of the spring market to buy or sell a home? According to Realtor.com, the first week of April is the best time to sell a home, as your listing will benefit from more views, less competition, faster time to sell, and a slightly higher sale price than if you list later in the month or year.
If you have a LifeShield system in your home now, here are a few things you should know before you move:
You can take it with you when you go. Because LifeShield is an easy DIY set up, you can easily take down your system from your current home, and bring it with you to your next home. If you need additional sensors to fully secure your new home, just call and request the additional equipment.
Pay attention to what type of smoke detectors are in your new home. If you're currently in a home with hard-wired smoke detectors, and moving to a new home with individually battery operated detectors, you'll need additional individual smoke sensors for each detector. The LifeShield Fire Safety Sensor will listen for your smoke or carbon monoxide (CO) detector siren and notify the LifeShield Monitoring Center to dispatch the appropriate authorities to your home, so it's important that unwired detectors each have a sensor in order to work properly. (*It's also important to note that not all hazard detectors are compatible with the Fire Safety Sensor so be sure to check this with a LifeShield operator when setting up your system.)
Customize new sensor names for your new home. Change the name and settings of all sensors during the setup process. Knowing exactly which door or window has been opened, or which fire safety sensor was triggered, is an important component to monitoring your home for both you and the professional monitoring center. To change them, simply log in to the web portal and go to Settings>Devices>Sensors, or do it right from your Touchpad (if included).
Advanced settings offer added features and flexibility. Take advantage of sensor features or toggle on and off features that may be required for false alarms as you're setting things up.
Set up indoor and outdoor smart cameras. Once you move, it may take a while to get used to your new surroundings. Set up cameras that point toward your front door, back door, and driveway. That way you can record video and take snapshot images of anyone coming to your door or entering your new home.
Remember basements and fire escapes. Moving from the city to the suburbs or vice versa? Pay extra attention to those alternative ways to enter your new residence that you may not be thinking of when installing. Help secure every entrance with a sensor, and add motion detection as well for extra protection.
Call LifeShield for new yard signs and stickers. Signs on your property help deter a burglar and make him think twice before breaking in to your home. Whether it's a sticker on your entry doors or signs posted in the walkway, make it known your home is protected with a LifeShield Home Security system.
Listing your home for sale?
Here are a few things to remember to keep your home safe throughout the sale process:
Keep your system activated at all times. Be sure to set your system whether you're coming or going. The increase in foot traffic to your home can mean a rise in the risk of theft or burglary. While most people are simply there shopping for a new home, there are instances of would-be burglars touring a home for sale as a way to stake it out to see if there's anything worth coming back for later.
Monitor showings. Give your realtor a unique entry code so you can know when they are coming and going from your home. Don't hide any keys outside either! Make sure your realtor uses a lockbox or keeps the key on their person.
Don't Show it Alone. If your listing is a For Sale by Owner, always use the buddy system when scheduling a showing. Never, ever allow someone to tour your home when you are the only one there. Keep cameras activated, and your remote key fob in your hand at all times so you can activate your LifeShield system in case of an emergency. To panic the system, press and hold STAY and AWAY at the same time on your key fob for 2 seconds. Your alarm will sound and emergency services will be alerted immediately.
Pay attention to windows. Some people with nefarious intent may slip away to unlock a window for easy access to come back later.  At the end of each day after a showing, check all of your windows to be sure they are locked and secure.
Protect what's yours. Add sensors to your jewelry drawers and medicine cabinets. Keep all financial papers with personal information out of sight and locked away. Store valuable things in a bin in a guest room closet or somewhere you can monitor with a sensor so you know the moment someone enters.
Activate cameras if you have them. Put a camera in the bedroom, dining room, or anywhere else you have valuables.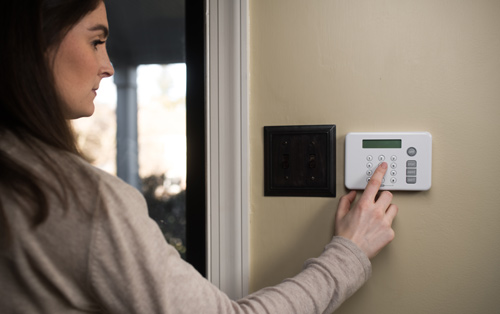 Don't be an April fool!
Be sure to set your LifeShield system at all times, whether you are at home or away from it for 24/7 total protection. Teach your kids the same.
By demonstrating good habits, you're keeping your family safe and taking advantage of the investment you made in total home protection from LifeShield.
Thank you for choosing the LifeShield Home Security system, the only whole home security system you'll ever need. If you need to talk to a LifeShield representative about adding on to your current system, or what to do when moving to a new home, call 877-464-7437.
LifeShield is superior, whole home security you can trust.
1 https://www.alarms.org/burglary-statistics/