December 01, 2018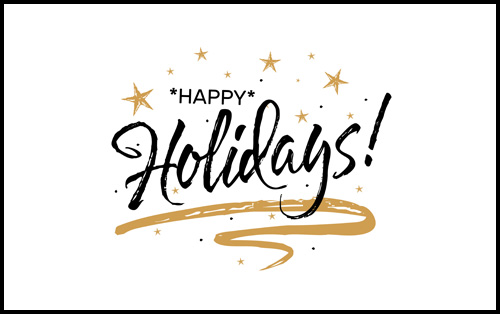 Regardless of which holidays you celebrate this month, December is always an exciting time of year!  Winter weather kicks in full force in many areas of the country, there are holiday parties and celebrations to enjoy, college kids home on break, time off from work, end-of-year vacations planned, and plenty of sales happening throughout the month both online and in-store.
With all the excitement that December brings, it's important to stay vigilant in keeping your home and family safe. This month's newsletter will highlight tips on securing your dining room, staying aware of porch pirates who steal packages ordered online and delivered to your home, and important steps you can take to keep your home from being burglarized.
Read on and enjoy!
How can I prevent my home from being burglarized?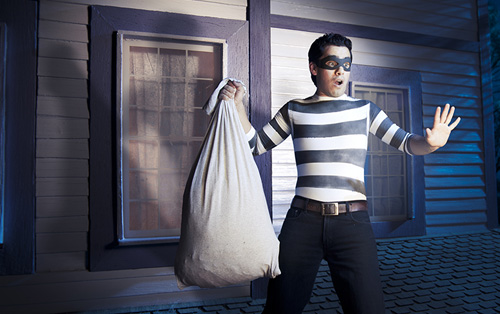 Keeping your home from being burglarized isn't easy – in fact, it can be really difficult. There is, however, plenty that you can do to deter someone from burglarizing your home. There are basic steps that you can take, the most important of which is protecting your home with a LifeShield home security system, and being careful about who you invite into your home.
Protect your home wirelessly
The best way to protect your home is to get a whole home security system. With window signs and stickers, a potential burglar may be dissuaded from picking your home. If he does, however, there are many obstacles in his way to success. From door and window sensors, to motion detectors, and glass break sensors, there are many layers of a home security system that will trigger an alarm if he attempts to enter. A home security camera will also capture the burglary event and be valuable information for police to use as evidence. Even better, the alarm may trigger live monitoring of your home.
When you select a home security system from LifeShield, you will have top-rate monitoring that will alert the authorities and help you to catch the bad guy in the act.
Lock All Doors and Windows
Even when you are home in the middle of the day, locking your doors and windows can help to keep you safe. This is especially true today because most people work, so burglars believe that they are just strolling into an empty home.
Make it a habit of locking your doors and you will never have to worry about forgetting to lock them when you aren't home. Even better, you can get electronic door locks that you can monitor from wherever you are – so you will know if your teenager forgets to lock the doors when she leaves — or if you forgot yourself — and can lock them remotely.
Know your neighbors
If you know your neighbors, you will be able to rely on them if something does go wrong. When you keep up a friendly relationship with a neighbor, that person can be a first line of defense if something does go wrong.
If your neighbors know what typically happens in and around your home, they will be better at spotting when something isn't right. When you're going to be away for an extended amount of time or vacation or a work trip, be sure to ask a friendly and reliable neighbor to take in your garbage cans and pick up your mail as this is a signal to burglars that you are away and the house is empty.
It's easy to incorporate LifeShield into Your daily routine.
Keep your alarm activated in Stay mode until you need to leave the house. Most break-ins occur during the day, and can often happen when the person is at home.
Need to walk the dog? Activate your system even if you're only going for a short walk. According to statistics, the average burglar takes less than 60 seconds to break into your home and spends only about 8 to 12 minutes before they've finished the job and they're out again.
Leaving for the day? Get in the habit of activating your alarm the moment you leave the house. If you decide you're going to do it remotely once you get where you're going, chances are, you'll forget. Plus, 65% of burglaries happen between 6 a.m. and 6 p.m., so it might be too late by then.
Taking a shower? Be sure that alarm is activated! Most people can't hear the front doorbell ring, or notice if someone has entered your home from the shower. Keeping your system activated ensures you are safe from a break-in, especially when you're at your most vulnerable.
Need to let the kids in after school? Be sure to turn it off, and then reactivate the system to Stay mode once they're inside to keep them safe, and to ensure they don't leave the house again.
Check your activity throughout the day. The more you get into the habit of checking on your home, the more you'll begin to make activating your system a daily habit.
Keep your key fob in your nightstand drawer. Before you go to sleep at night, be sure to set your alarm so you can sleep peacefully knowing your home and family are protected.
December = lots of holiday shopping. Don't be a victim of porch piracy!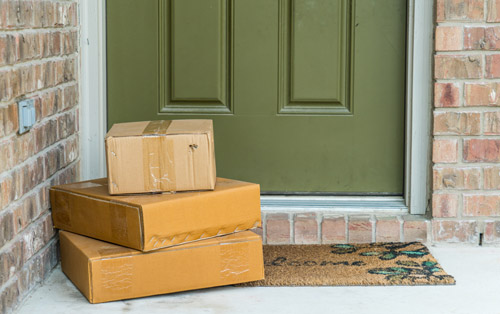 Porch Pirates are people who steal packages delivered via UPS, USPS, and Fed Ex from the porches of unsuspecting individuals. With the holiday shopping season upon us, dishonest Porch Pirates will be out in much larger numbers.
Whether you have an Amazon addiction or you order your groceries to be delivered, it can be a problem. The sad truth is that nearly one-third of Americans have had their packages stolen over the last year – and that number keeps growing as we increasingly depend on online delivery.
Thankfully, there are some solutions. Don't be a victim of Porch Piracy! Read on for helpful tips to keep your online gifts delivered safely.
Considerations before you order:
Limit the amount of packages delivered in a single day
Do not order anything that is extremely expensive
Utilize the online tracking feature to know when the package is expected to arrive
Choose the "sign for delivery" option so you can ensure that you receive it
Schedule delivery only if you'll be home within eight hours to retrieve it
Choose the Deliver to Store Option
If you tend to shop from the same stores, you can get your packages delivered to those retail locations near you. This is easy for big box stores, but you can also get them delivered to Amazon Lockers or even held for you at the post office. You will have to do some research, but it can be worth the extra bit of hassle to ensure your packages aren't stolen.
Get Your Packages Delivered To Someone Who Is Home
Have a neighbor that does not work? Or live near your retired parents? If you get your packages delivered to someone who is home all day, it is less likely that your package will be taken from your unoccupied home.
Get a Smart Home Security System with a Video Camera
One of the best ways to catch a package thief is to get a security system with a camera. If your camera is visible, it helps to deter anyone who walks up to your home to take your package.
If you only have a camera pointed at the front porch that the burglar does not see, it will allow you to know when you got your package. This means that you could run home on a break to pick up the package, or you can call a trusted neighbor to move the package or take it into their home until you can pick it up. If you have a smart home security system like LifeShield, you can even unlock the door remotely so that your neighbor can put it inside your home for you and then lock the door remotely once they've left.
Holiday gift idea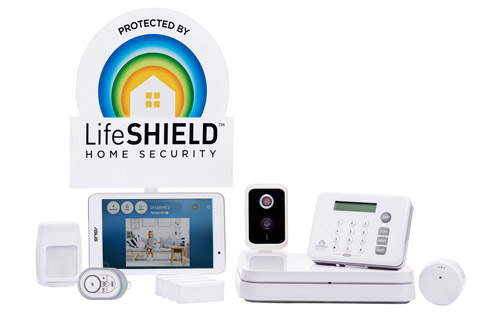 Give the gift of home security this season!
Stop break-ins before they happen with affordable 24/7 monitoring.
Get Protected Today and get 2 Free Cameras from LifeShield!*
When you choose to secure your home with LifeShield this holiday season, you're making the choice for 24/7 whole home monitoring. A LifeShield Home Security system with professional monitoring means:
Emergency services will be called the moment your system detects a problem
You'll also be notified immediately upon a security incident
Windows and doors that are compromised by an intruder will send a signal to the monitoring station immediately prompting a call to police
Fire department will be notified in the event your detectors sound off – even when you're asleep or away from home.
Cameras in the home will give you added peace of mind since you can set up as many as you like, and monitor the inside and outside of you home
Whole home monitoring means arming your system daily will give you peace of mind and keep you safer. Set up notifications and reminders through LifeShield web and mobile to keep you informed of what is happening in your home.
Secure your dining room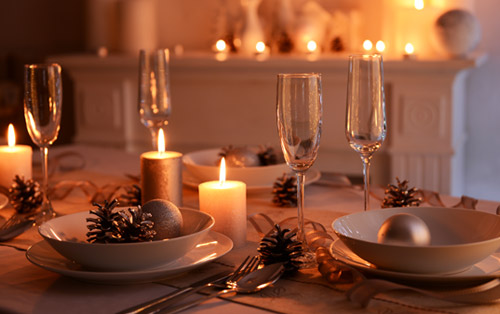 The Dining Room is often where some of the homeowner's most valuable items are kept like sterling silver flatware, and is typically a ground floor room with windows. Some may even have a door leading to an outside deck or patio.
So while some of these suggestions may not come as a surprise, the dining room is often overlooked as a room to secure from within, as well as from the outside in.
Buffet or china cabinet – Only used on special occasions, the buffet or china cabinet in your dining room is the keeper of your most expensive dinnerware. Keep a sensor on your glass display cabinet to know the moment it's been opened.
Silver Chest – Many look to hide this elsewhere in the house in case of a burglary, when all you need to do is keep in a drawer with a sensor on it.  Fine silverware is a commonly stolen item in home burglaries because of its value and how easy it is to sell to a pawnshop or on eBay.
If you have French doors closing off your dining room, it makes sense to attach a sensor so you'll know the moment someone even enters the room.
All exterior doors and windows should have a sensor.
Dining rooms are a great place to mount a video camera. You can capture images of who is coming and going from the room on a daily basis.
Dining Rooms Require Special Fire Safety Precautions
Because dining rooms are used for special events and holiday meals, candles are usually lit to create atmosphere.  Unattended candles, though, can pose a real fire risk.  It's a good idea to have a fire safety sensor in your dining room so the fire department can be alerted immediately in the event of a fire.
Product reviews for holiday purchases:
"LifeShield DIY Home Security System is really a very easy system to set up and includes all of the necessary functionality to manage the system both locally and remotely via the app. There were a few times when I had to reach out to their customer service, and they were extremely responsive. The system is very responsive and while I did not trigger a real emergency response for obvious reasons, I did test the sensors in Test Mode. I do believe that the live monitoring would work well. This is a very good security system, and the quality of the included components is great. Overall, it gets two thumbs up!!"
– J. Perry, The Gadgeteer
"We believe Lifeshield Home Security System is a good DIY installed, but professionally monitored home security system. It's easy to install, and can be easily customize to meet your particular home security needs. We like how the base unit offers four layers of security (broadband, cellular network, cellular text and landline phone) and works on battery backup power for up to 24 hours during a power outage. We're also impressed how easy it is to add other smart home devices to Lifeshield's system using just Z-Wave and IFTTT applets."
– M. Westlake, Gearbrain