August 05, 2019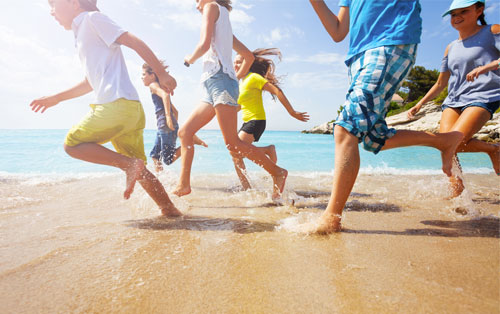 August may be Back to School Month, but it's still feeling like summer in most of the country with high temperatures, fun vacations, and plenty of time spent outdoors.
Depending on the ages of your children or grandchildren, back-to-school month means different things to different people. For college kids, it's shopping for dorm room essentials and coordinating with roommates for the year ahead. For high-schoolers, it's getting back into a new school routine, and starting up fall sports practices in prep for the year. For the younger set, they're still enjoying summer day by day, and living their best lives.
For the parents, it's part vacation time, and part school prep time! School supply lists, computers and related educational programs, summer work, and scheduling are what come to mind in August for most parents of school-aged children.
This month's issue will cover some essential planning tools and safety checklists for the kids in your life. No matter the age or educational level of your children, savor these last days of summer, and enjoy getting in sync on the upcoming year.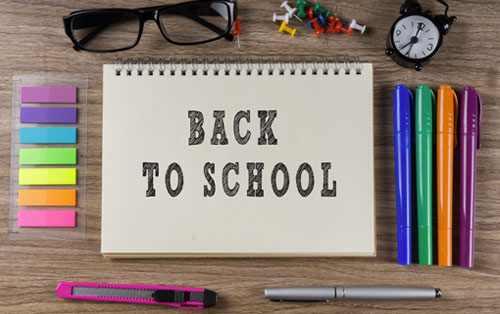 Back to School Checklist & Safety
Getting ready for back-to-school time isn't just about school supplies. The reality is, new school year routines take a while for everyone in the family to adapt, but if you do some planning beforehand, it makes for a much better school year kick-off. Here are a few simple ways you can prepare now:
Check the bus schedule. As schedules and routes change from year to year, it's always good to get a jump on this information. Know the bus route to school, including pickup and drop-off times, and begin to formulate a plan to ensure someone is there to get your child(ren) safely off to school, and then off the bus again in the afternoon.

Know the schedule for sports and extra curricular activities. As after-school activities change from month to month, it's important to stay on top of where and when your child(ren) needs a ride. Get a team or group contact sheet and reach out to share carpool duties with parents or caregivers who live near your neighborhood now so you can go into the new school year with an organized plan.

Be sure to outfit your home with video. New options like the HD Video Doorbell allow you to check on your home throughout the day to be sure no one's in or around your house when your child(ren) gets home from school.

Identify your in-case-of-emergency neighbor. Keep an extra key there in case your child loses his/her key, or if there's a problem accessing your home. Give that neighbor their own LifeShield code so they can also access your home if you need them to, and you'll know when they come and go.

Instruct kids only to have cold snacks after school. Minimize the risk for a kitchen fire, and instruct your child not to use the oven, microwave, or toaster oven. Instead, stick to room temperature snacks or something from the fridge until you get home.

Call if anyone comes to the door. While most visitors do not have malicious intent, it's important your child knows not to let visitors know they are alone. Instruct them to call you immediately whenever someone comes to the door so that you are aware and can help them respond appropriately.
Campus safety
With thousands of students living in such close proximity, there are simple safety precautions all students can put in to practice to reduce incidents. Talk to your child this month about the importance of campus and off-campus safety precautions they can take to be safe at school.
Lock your doors! Always lock doors and windows when you leave home; never leave doors unlocked when you are home; lock doors before you go to bed.

If you see someone or something suspicious, contact campus authorities immediately. If you're worried about doing this, report the tip anonymously.

Never label your keys with your name or address. If you lose your keys, change your locks immediately.

Never buzz anyone into your dorm or apartment whom you don't know.

Study your campus map and memorize a safe path home. If your campus is equipped with emergency boxes, familiarize yourself with where they are located.

Don't walk alone at night; always have a friend with you. If you are alone, call campus security or a taxi to get you home safely.

Always be aware of your surroundings; this includes knowing current crime trends on campus.

Keep money and items of value inside of drawers or locked away. A passerby may notice what you left on your desk and be tempted to enter your room.

Get a LifeShield system to protect you and your roommates. It's simple to set up and you can take it with you when you move to your next living situation. Once installed, be sure your LifeShield apartment or dorm room security system is always enabled, whether you're there or not.

If you are using a ride share app, always ask the driver who they are picking up and check to be sure the photo and license plate match the person on your app. Enable the feature in the rideshare app that allows your parents or a reliable friend to track your ride home. Ask the driver to wait until you are safely inside before leaving.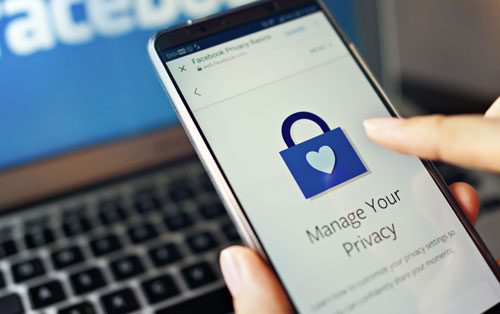 Better online behaviors start at home
As we look toward the new school year, it's always a good idea to stay on top of recommended child safety precautions. Following are some ways you can keep your child safe both on and offline:
Require Kids to Share all Passwords to Email and Social Media Sites With You. For smaller children, this is a must. For older teens, it's a good idea to have all passwords to let them know you're in charge and that you CAN access their accounts at any time. Just knowing Mom or Dad can check out your activity, will make kids think twice before saying or sharing something online. Outline punishments for breaking these rules and stick to them.
Educate Yourself on Online Safety Software. For small children there are resources now to filter web searches and other online material. Learn how to block certain types of sites, and how to choose and install effective parent control software.
Limit Online Access. Changing the family WiFi password to minimize access to the Internet and only giving it out when children have earned it is a great way to set limits.
Keep Personal Info Private. Be sure to talk to your kids about what NOT to share. Let them know that sharing personal information or revealing photos – especially with someone whom they've never met – is critical to maintaining privacy and personal safety.
Be Sure All Filters Are Set to the Highest Level. Limit what types of photos and information can be posted, and be sure all privacy filters on Facebook and others social sites are set to the highest setting. Make sure they know how to maintain the highest security setting for everything they post.
Have Zero Tolerance for Bullying. Talk to your kids openly and often about the effects of bullying others. Advise them against cyber bullying, or targeting another person online, or even commenting below a nasty post written by someone else. Let your child know they should always tell someone if a bully has targeted them or another child because it's not acceptable behavior on any level.
No Devices in the Bedroom at Night. Restrict use at night, and disallow access until morning. Studies show that cyber bullying spikes at night, as does video game play, texting, and social media activity. Usage of any technology device at night also interrupts sleep patterns and reduces the amount of time that kids are sleeping, leaving them deprived and tired the next day.

Be a Good Role Model. Minimize your own time on the Internet, don't bring smartphones to the dinner table, turn off your ringer when having family time, and always arm your wireless security system whether you're at home or away from it.
Parents know it's important to be vigilant these days. By enforcing stricter online safety measures, you are helping your child take smarter safety measures.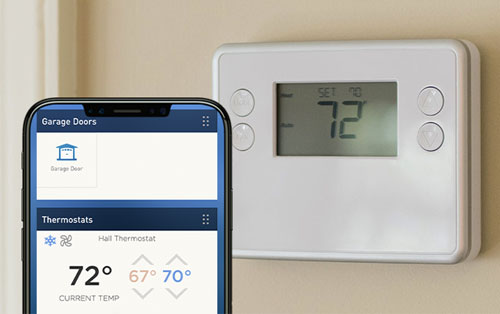 Monthly safety tip: smart home automation
LifeShield is a Security System with smarts. We can make your life easier with Smart Home Automation. All you need to do is connect your compatible smart home devices and voice assistants (like Alexa and Google Assistant) for complete home control.
LifeShield is also compatible with all devices that work with IFTTT like Philipps Hue, nest, Lutron, Sonos and even smart vacuums like iRobot. Get secure mobile access to your LifeShield home security system and control your smart home from your mobile device.
You can help make sure your home is safe and sound from anywhere with the free LifeShield Mobile App. From arming your system to shutting off your smart lights, with LifeShield you're always in control.
For additional help on understanding LifeShield's smart home automation capabilities, call 877-464-7437 or email support@lifeshield.com.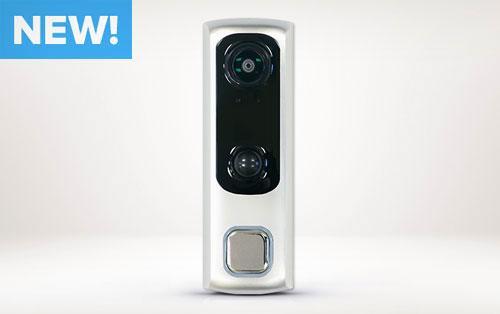 The forecast looks hot!
LifeShield receives a welcome response to its new HD Video Doorbell

With July's introduction of LifeShield's new HD Video Doorbell, we are thrilled with the positive responses we've received. Customers continue to reach out to let us know how easy installation was and how happy they are to add this to their LifeShield whole home security system.
In addition to the total security that LifeShield provides, the HD video doorbell lets people see who is at the door, talk to visitors, and stream live video to check in on your home from anywhere.
Additional benefits include:
Push notifications alert you when your video doorbell detects motion or someone rings the bell.

Simple doorbell setup and easy video pairing through the app to connect to Wi-Fi means you're up and running quickly.

Wide-angle lens gives a Field of View of 170° and customizable motion detection shows you what's going on around your home – such as when someone cuts across your lawn.

Night Vision feature allows you to see who is at your door even in the dark.

Live Video Stream is compatible with existing digital or mechanical doorbell chimes, allowing you to stream live video any time from anywhere on your LifeShield app (iOS and Android) to view activity in full 1080p HD Video Resolution.
Call today to learn more about this new offering from LifeShield, and see how easy it is to set up for added home protection.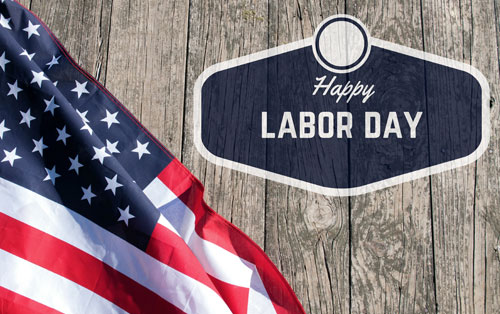 Labor Day Weekend is the unofficial end of summer.
Officially, though, this holiday is dedicated to the social and economic achievements of American workers in contributing to the strength, prosperity, and well-being of our country. Enjoy some time off this Labor Day Weekend with a fun stay-cation (a stay-at-home vacation!), some good food, and plenty of loved ones around you.
Enjoy your last lazy days of summer and stay safe!