July 02, 2019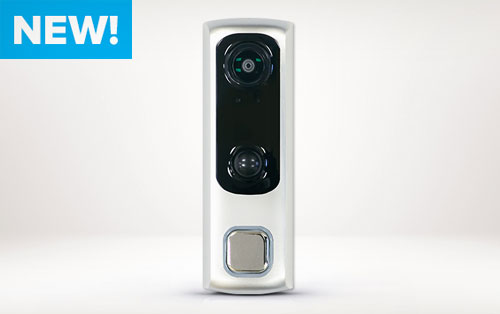 July is all about freedom and celebrating our independence. Now, you can enjoy the simple freedom of coming and going without worrying who is at your door when you're not home because the new LifeShield wired HD video doorbell security camera has arrived!
Take a look-see at what LifeShield's HD Video Doorbell can do:
Check it put: See who is at your door, talk to your visitors, and stream live video to check in on your home from anywhere.
Who's there? Push notifications alert you when your video doorbell has detected motion or the moment someone rings it.
Installation is Simple: All you have to do is replace your existing doorbell button with your new video doorbell, connect the wires, mount, and then pair the video doorbell through the app to connect to your Wi-Fi. That's it!
Stream live video: With a power kit installation, the new doorbell is also compatible with existing digital or mechanical doorbell chimes. Once installed, you can stream live video any time from anywhere on your LifeShield app (iOS and Android) to view activity in full 1080p HD Video Resolution.
See in the dark: A night vision feature allows you to see who is at your door even at night.
Look around: A wide-angle lens gives a Field of View of 170° and customizable motion detection shows you what's going on around your home – such as when someone cuts across your lawn.
Stay connected: Push notifications allow you to stay connected with who is coming and going from your home from anywhere. You'll also receive notifications alerting you that your doorbell rang or when motion is detected.
If you're a customer and haven't ordered your new HD Video Doorbell, login to your LifeShield portal to get yours today. Not yet a LifeShield customer? Get your Doorbell Camera System here!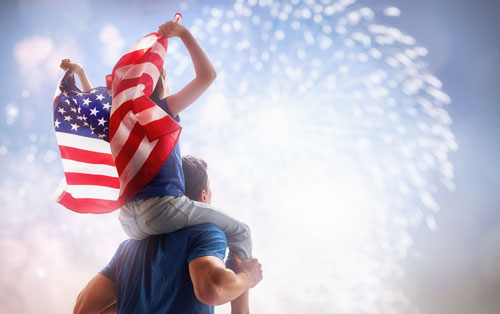 Fireworks + cookouts + flags = a happy 4th celebration
Independence Day means traditional fireworks celebrations, large get-togethers, and lots of American flag-waving. As you're preparing for a fun time, please take note of the following safety and information tips:
Fireworks safety checklist
Before you begin any celebrations, be sure your LifeShield Fire Safety Sensor is installed properly and all smoke alarms are working properly by testing them. If you have battery-operated smoke detectors and you can't remember the last time you changed the batteries, now would be a good time to do that.
Fire safety is always important, but it's of particular concern around the annual Independence Day holiday. Thanks to countless amateurs handling fireworks and the large groups of people hosting celebratory cookouts, people are literally playing with fire so accidents are unfortunately not all that uncommon.
According to the National Fire Protection Association (NFPA), fireworks reportedly cause more than 16,000 fires annually and thousands of bodily injuries each year – and of those, roughly 25% of emergency room firework injuries are caused by sparklers and firecrackers.
The NFPA warns people against consumer fireworks because they are too dangerous, suggesting that if you want to enjoy fireworks, attend a public show organized by experts. Let's take a look at the NFPA's Fireworks by the Numbers:
Thousands of Fires Each Year: On average, fireworks ignite 18,500 fires per year, including 1,300 structure fires, 300 vehicle fires, and 16,900 outside and other fires.
Consumer Fireworks Cause Major Property Damage: Fireworks are responsible for an average of $43 million in direct property damage.
Serious Injury and Even Death Can Occur: In 2017, U.S. hospital emergency rooms treated an estimated 12,900 people for firework-related injuries; 54% of those injuries were to the extremities and 36% were to the head.
Always Keep an Eye on Younger Kids: Children younger than 15 years of age accounted for more than one-third (36%) of the estimated injuries in the recent NFPA study.
Enjoy the beauty of fireworks this year by Googling a local professional fireworks display in your area, and keep those kiddos close by and safe from harm!
Cookout safety checklist
Cooking out this year for the 4th festivities? Following are a few helpful reminders on cooking out at home:
Always clean your grill before cooking to minimize the chance of a grease fire.
Never grill inside your home or garage. Propane and charcoal grills are for outdoor use only.
Always make sure your grill is placed on flat, level ground, and the wheels are locked.
Keep the grill at least 10 feet away from your home; in particular, vinyl and aluminum siding can get severely damaged if your grill is too close to the structure.
Always keep a fire extinguisher nearby in case of a fire emergency.
Never leave your grill unattended. Always appoint someone in charge if you need to leave your grill for any reason.
Displaying and caring for the American Flag
The American Flag is a proud symbol of our free country with liberty and justice for all. The 13 stripes represent the original 13 colonies and the stars represent the 50 states of the union. Even the colors have symbolic meaning: red for hardiness and valor, white for purity and innocence, and blue for vigilance, perseverance, and justice.
Consider this helpful information in accordance with the official U.S. Flag Code for the proper display of an American Flag:
When displaying your flag from a pole on your porch or house, the union (blue) side should be at the peak of the staff.
When the American Flag is hung on a wall or in a window, the blue section should be displayed in the upper left corner.
When fastening to your vehicle, the American Flag should be affixed to the front right bumper.
When displaying the American Flag alongside another flag, the American Flag should be to the left when crossed.
An American Flag should never touch anything beneath it or rest on the ground.
No flag should be flown in inclement weather unless it's an all-weather flag.
When storing your flag, it should be folded in a triangle with the union (blue) section visible.
Should your flag get damaged or worn out, it should be disposed of with dignity.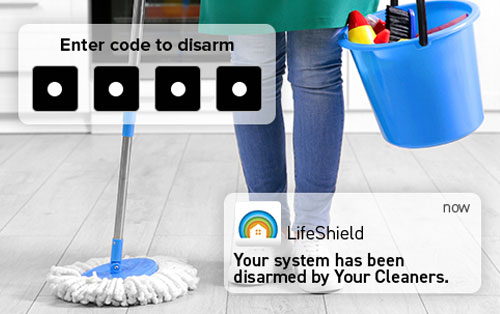 Monthly safety tip:
How to add or remove user codes on the LifeShield System
Summer is a time for dog walkers, contractors, and kids home around the clock. If you want to know who is coming and going from your home while you're not there, issuing individual user codes to people is a great way to do this.
Thankfully, LifeShield allows for multiple user codes so you to keep track of who arms and disarms your system each time.  Following are some helpful reminders to ensure you're doing it properly.
MASTER CODE: You will only have one 4-digit master code, which gives you complete access to your entire system. Protect this code and do not share it with others.
SECONDARY USER CODES: Additional unique codes give system users access to arm and disarm your system and help you to keep track of who is coming and going. You can create, change and delete user codes anytime using your app, web portal, or touchpad (if included), to have total control over who has access to your home.
MAX NUMBER OF USER CODES: You can have a maximum of 14 normal user codes at one time.
KEYCHAIN REMOTE: This is the only arm/disarm method that does not require a code. If you lose your LifeShield keychain remote, do not worry. You can easily remove it from the system using the app or keypad to disable access and keep your home secure. Be sure to call LifeShield to order a new one.
REMINDER TO REMOVE ACCESS! If you're going to allow temporary access to a contractor or electrician or anyone, don't forget to delete the temporary user code through the app, web portal, or touchpad (if included). Otherwise, they will continue to have access to your home any time of the day or night.
For additional help adding on removing users, call 877-464-7437 or email support@lifeshield.com.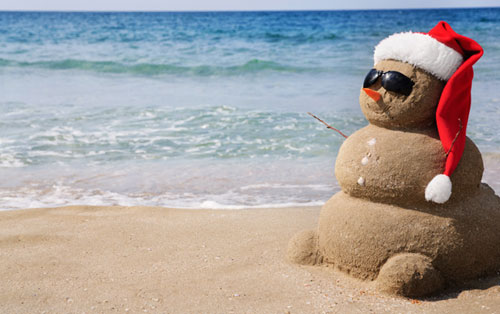 Yep, Christmas in July is a real thing!
Christmas in July is an unofficial annual holiday that started as a means to celebrate Christmas in the Southern Hemisphere during the region's mid-winter season.
Since it began, people in the United States have jumped on the seasonal bandwagon to have some fun with the concept. Google your local area for Christmas in July happenings, and you're likely to find plenty of silly celebrations like "Running with the Santas" marathons, holiday-themed happy hours, and lots of sales on consumer products.
Have some fun with Christmas in July this year and give the gift of a LifeShield Home Security system to an aging parent or a child who has recently graduated from college and moving to a new apartment. They will love the peace of mind it gives – and so will you, since you can set text or email alerts to notify you when they are home safely at night. Visit LifeShield to get started!
Happy Independence Day and, as always, stay safe and enjoy all that summer has to offer.