September 06, 2019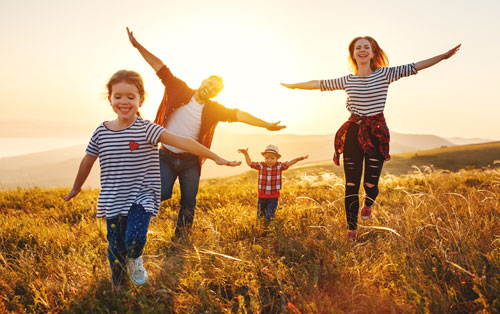 September is here and the time is right for – all things Fall!
Football season has already kicked into high gear and the official start of autumn is around the corner (9/23). School routines, cooler weather, and new activities means everyone at home is coming and going at different times. At LifeShield, we always like to highlight the importance of changing routines because that is when you need to pay extra attention to keeping your home and family safe. Here are a few tips on how to talk to your family about the importance of arming and disarming your system:
Have a family meeting. Talk to each other about your daily habits, who is coming home when, and what happens when you get there. Stress the importance of turning off the alarm, and arming it to "Stay" mode again right away so there is no lapse in home protection.

Go over individual security codes and basic arm/disarm functions. Be sure everyone knows how to work the home security system and each person knows their individual code. Check the system to ensure there are no extra codes still there from former dog walkers or contractors to whom you allowed temporary access to your home. If there are, delete them.

Customize your system to share activity with kids. Many parents like keeping everyone in the family informed on who is coming and going. Customize your system's e-notifications to share this information with everyone.

Discuss what kids should do in the event someone comes to the door and Mom or Dad are not home. Go over different scenarios, and be sure in all of them that the home security system is always armed when they are at home, particularly when Mom and Dad are not.

Talk about rules around bringing friends home or inviting others over when Mom and Dad aren't there. Lay specific boundaries and tell kids exactly where you stand on the subject. Let kids know that they are never to share personal security codes with friends or anyone.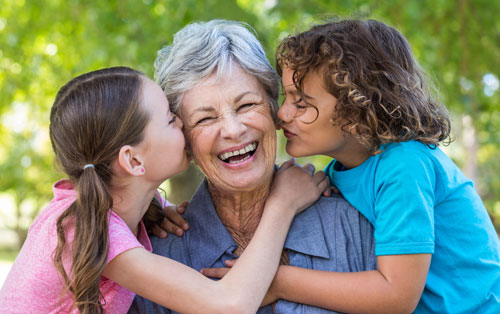 Grandparents Day is September 8th!
Too often these days, men and women are finding themselves in a position where they need to be a lot more involved in caring for their independent, but aging loved ones. If you've ever considered adding a LifeShield system to help protect a grandparent, here are 10 reasons to install a LifeShield security system in their home:
All exit doors to the home can be monitored to show you when they are coming and going during the day. An HD video doorbell will let you know when anyone comes to visit.
Door sensors help you keep track of when at-home care is arriving and leaving the home, and sends alerts to your phone or email in real time.
Sensors can be attached to the medicine cabinet and will send an alert when the cabinet is opened to help to confirm that critical medications are being taken each day and at the right times. It can also send an alert if the cabinet ISN'T opened by a certain time.
Sensors can even be placed on the refrigerator to ensure Grandmom or Granddad is remembering to eat on a regular basis.
Cameras installed in the home can keep a watchful eye on loved ones and can help monitor for falls or accidents. Cameras also help to keep an eye on visiting nurses and other at-home care providers.
LifeShield offers a keychain remote which can be kept in a pocket or around the neck so your loved one can send an instant "panic" alarm to emergency services if something happens like an injury or fall.
Full scale safety monitoring can be set remotely at night by you via computer or mobile device and disabled again in the morning. Your aging loved ones are secure without having to understand how to "work" a home security system – because you can do it for them.
The system will notify you if someone is breaking in to your loved one's home through a window or door in the middle of the night and the police will be dispatched immediately.
Fire protection monitoring will dispatch the fire department immediately, and will also alert you that the home is smoking or on fire, so you can call your loved one's neighbor to help manage the situation until the fire department arrives.
Reminder alerts can also be set up and sent to your phone so you won't forget important doctor appointments or to call for the results of recent medical testing.
With customizable alerting options, whole home monitoring, and real-time email and text notifications, a LifeShield security system gives peace of mind to concerned loved ones who just can't be there every day.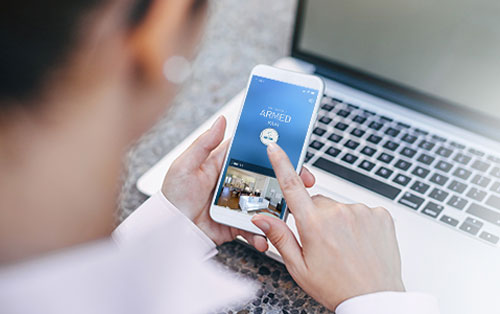 Safety spotlight: the importance of whole home monitoring
Did you know LifeShield has three connected monitoring centers located throughout the United States? Three coast-to-coast monitoring centers help protect you day and night from burglary, fire, and flood. They are backed up with two generators and uninterruptible power supplies. No matter what disaster may occur, they will help keep you safe. LifeShield's whole home monitoring is important for:
Fire & CO Protection – Our Fire Safety Sensors will work with your home's existing smoke and CO detectors and call for help in the event a fire breaks out – whether you're at home or not.
24/7 backup protection – The LifeShield base helps you stay protected with 4 layers of protection (including high-speed internet, cellular signal, cellular text, and landline phone) and 24-hour battery backup.
Smash and crash protection – It's common for intruders to go for the keypad and destroy it thinking that will bring down the system. Not with LifeShield! Even when damaged or destroyed, LifeShield's base will still stay connected and notify the authorities.
Customizable LifeShield mobile app – You can help make sure your home is safe and sound from anywhere with the free LifeShield Mobile App. From arming your system to customizing text and email notifications, the LifeShield Mobile App helps you stay in control.
FlashAlerts™ – Receive custom push notifications and emails for events around your house like arming, disarming, sensor alerts, or even if your garage door has opened.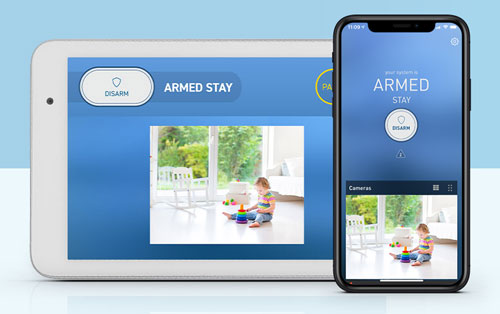 September is Baby Safety Month
A LifeShield system is a great way to help baby stay safer. Here are top favorite tips from working parents on how they customized their LifeShield system to keep an eye on things at home when they aren't there:
Eat: Add a camera to the family room and/or playroom, and highchair area. This way you can check in to see baby during prime play hours and mealtime.
Sleep: Add a camera pointed to baby's crib to watch them sleep, play in the crib, and ensure they are safe and no blanket or other item is covering their face.  Customize camera to send notifications when there is movement so you know the moment baby is awake.
Play: Install an outdoor camera towards the swing-set or other favorite play area and watch baby play outside.
Swim: In warmer climates, backyard pools are open year-round. Be sure you have a door/window sensor on any exterior door set to alert you the moment it's open. As a backup, add a camera pointed toward the pool and set it to alert you any time it senses motion.
Store: Add sensors to any drawers or cabinets that store items you don't want baby to access — like under the sink where cleaners and other toxic chemicals are often kept, or a gun or liquor cabinet. If baby opens it, you'll get an instant text message letting you know the moment it happens so you can react immediately.
Explore: Be sure exterior door/window sensors are set to chime and turn up the volume on your system. That way, you can hear when doors are open and closing and be more aware if baby is trying to go outside without your knowledge.
Cameras and door/window sensors around the home are a great way to feel more connected to your child while you're at work, and makes it easy to check in every now and then on the caregiver via the LifeShield app on your phone.
For additional help or questions about LifeShield's whole home monitoring and backup protection, call 877-464-7437.
Enjoy the upcoming cool days of fall and stay safe!